Destination & About us
Beautiful nature, history, culture, heritage
Istria destination
Istria is the largest peninsula of the Adriatic and is the closest Mediterranean of central Europe.
Istrian is characteristic for its diversities, mild climate, healthy food and preserved nature, making it ecological and healthy tourist destination.
Many refer to it as the "New Toscany".
You can find tourist centres at the seaside, historical monuments, as well as peaceful rural places ideal for holidays, all within small distances.
Don't miss
Rovinj: a typical Istrian coastal town – 70 km
Pula: a Roman amphitheatre – 85 km
Grožnjan: a town of artists – 20 km
Poreč, Umag, Novigrad: the nearest tourist centres on the coast (8-25 km)
Istria Tourist Board: www.istra.hr
More information about destination
Brief history of Stanzia Cocci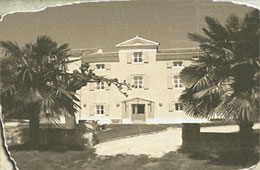 Stanzia Cocci was built by Count Cocci around 1810. The estate was named after him.
The Count lost his property in a card game.
At this time, the ancestors of the current owners lived in central Istria. Matteo Zugan was an officer in the Austro-Hungarian army. With his brothers, he purchased the estate in 1872.
In 1899., Pietro Zugan built a new addition to the house – commemorated with an inscription in the front of the house.
Stanzia Cocci remains in the ownership of the Zugan family to this day.